Written by Mtha Nazo, SSA Youth Influencer Eastern Cape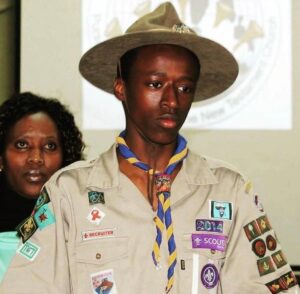 At just the age of 13, Zenakhanye Madondile joined the Community Church Scout Group in the Amathole Central District in the Eastern Cape South Region. He recalls being the first person to arrive on his first day at the Scout meeting and was assigned to set a trail by his Troop Scouter, Mr. Lunga Nqini – known as 'Rhino'. He shares his story of how Scouting has significantly contributed to his life.
'I've always been an adventurous child and Scouting was a great platform for me to be adventurous and express my love for the outdoors, that is why I was interested in joining the Movement.  Over the years I have been a Patrol Leader, a Troop Leader, I have led camps, hikes, and campfires. I give credit to my Troop Scouter Rhino for guiding me in these leadership roles.  He shared many wise words with me including "A friend can either make you or break you", which I will always remember. He has contributed so much to making me the person I am today, he has believed so much in me and taught me so well. All because of his guidance I have been able to lead the Troop through hardships and rainy days. Another highlight for me was when we were able to successfully facilitate SCOUTS South Africa Educational Environmental Camps around the Eastern Cape," he says with a smile.
Discipline goes a long way in bringing you closer to each milestone
Over the years Zenakhanye has earned many accolades and is proud to be a Scout who now sets an example for younger Scouts.  "Amongst many other things I have achieved in Scouting, I have earned my last badge, the highest award a young person can earn in Scouting, the Springbok Badge.  However, it did not just end there, I was also awarded Scout of The Year at the Eastern Cape Sports Archivers Awards, by Dr Pemmy Majodina.
I have learnt two most important things: Firstly, to respect the Scout rules and live by the Promise. Secondly, that discipline as a leader or as someone being led goes a long way in bringing you closer to each milestone and every single achievement.
Scouting has been a great platform for me to expand my wings and fly high, my leadership skills grew on a grand scale, so much that I at some point was elected as headboy during my high school life. Through Scouting my character was moulded."